Hobbits and Rabbits have several things in common and eating cabbage is one of them. Of course J.R.R. Tolkien made a distinction that Hobbits dwell "...in very well-appointed holes (none of your wet, smelly
rabbit
holes, mind you)." Hobbits do have the long rabbit looking feet but the similarity ends there. Hobbits are distantly related to humans and resemble humans in their dress, mannerisms, gardening and so forth. There was one rabbit from a different childhood tale, Peter Rabbit who ate like a Hobbit!
"Once upon a time there were four little Rabbits, and their names were--Flopsy, Mopsy, Cottontail, and Peter ... Flopsy, Mopsy, and Cotton-tail, who were good little bunnies, went down the lane to gather blackberries; But Peter, who was very naughty, ran straight away to Mr. McGregor's garden, and squeezed under the gate! First he ate some lettuces and some French beans; and then he ate some radishes And then, feeling rather sick, he went to look for some parsley. But round the end of a cucumber frame, whom should he meet but Mr. McGregor!.."
Quote from "The Tale of Peter Rabbit" by Helen Potter (1866 - 1943).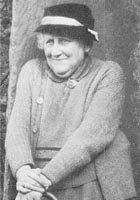 Helen Beatrix Potter was born in 1866, in South Kensington, London. She was an English Victorian artist and author of children's stories, creator of such winsome and nattily attired characters as Benjamin Bunny, Squirrel Nutkin, and of course Peter Rabbit. Her father was a wealthy investor. Potter lived a secure childhood at home, with her younger brother Bertram. She wrote "The Tale of Peter Rabbit".